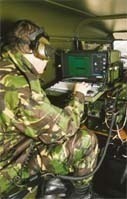 Electronic warfare is the future, but we can't tell you about it, it's classified.
Just kidding. The information below can aid you in understanding the past, present, and future of electronic warfare.
The AFCEA serves as a bridge between government requirements and industry capabilities, representing the top government, industry, and military professionals in the fields of information technology, communications, and intelligence
To field and insert state-of-the-art, interoperable sensor capabilities and products which enable the land component commander to control time, space and the environment, while enhancing survivability and lethality, through continuous technology evolution and warfighter focus in the right place, the right time, and at the best value for the U.S. taxpayer.
Maintained by Congressman Joe Pitts
Australian electronic warfare consulting firm
The Royal Signals are leaders in Information Technology and Communications for the British Army. We Provide the Army with communications throughout the world.
Electronic warfare provides the MAGTF commander with a combat power multiplier and an ability to control and shape future battlefields. The key to this multiplier is education and integration into the overall scheme of maneuver
The E-3 Sentry is an airborne warning and control system (AWACS) aircraft provides all-weather surveillance, command, control and communications needed by commanders of U.S., NATO and other allied air defense forces
Compass Call is the designation of a modified version of the C-130 Hercules aircraft configured to perform tactical information warfare. Specifically, the modified aircraft prevents or degrades communications essential to command and control of weapon systems and other resources. The system primarily supports tactical air operations, but also can provide jamming support to ground forces and amphibious operations.
Naval Air Warfare Center Weapons Division: Electronic Warfare
The Electronic Defense/Information Superiority Association
U.S. Armed Forces Manuals on Electronic Warfare
FM 34-1: Intelligence and Electronic Warfare Operations
Echelons Above Corps (EAC) Intelligence and Electronic Warfare (IEW) Operations
FM 34-45: Tactics,Techniques,and Procedures for Electronic Attack
Brigade and Battalion Intelligence and Electronic Warfare Operations