Section IV
No. 6
A device to launch 60 mm mortar rounds using a metal pipe 2-1/2 In. (6 cm) In diameter and 4 ft. (120 cm) long as the launching tube.
MATERIAL REQUIRED:
Mortar, projectile (60 mm) and charge increments
Metal pipe 2-1/2 In. (6 cm) in diameter and 4 ft. (120 cm) long, threaded on one end
Threaded end cap to fit pipe
Bolt, 1/8 in. (3 mm) in diameter and at least 1 In. (2-1/2 cm) long
Two (2) nuts to fit bolt
File
Drill
PROCEDURE:
1. Drill hole 1/8 In. (3 mm) in diameter through center of end cap.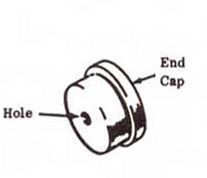 2. Round off end of bolt with file.

3. Place bolt through hole in end cap. Secure in place with nuts as illustrated.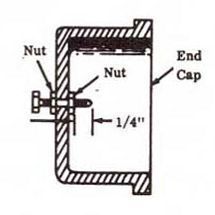 4. Screw end cap onto pipe tightly. Tube is now ready for use.

HOW TO USE:
1. Bury launching tube in ground at desired angle so that bottom of tube is at least 2 ft. (60 cm) underground. Adjust the number of increments In rear finned end of mortar projectile. See following table for launching angle and number of increments used.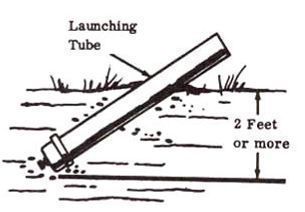 2. When ready to fire, withdraw safety wire from mortar projectile. Drop projectile Into launching tube, FINNED END FIRST.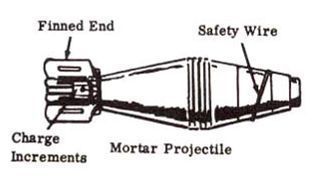 CAUTION: Be sure bore riding pin is in place in fuse when mortar projectile Is dropped into tube. A live mortar round could explode in the tube if the fit is loose enough to permit the bore riding pin to come out partway.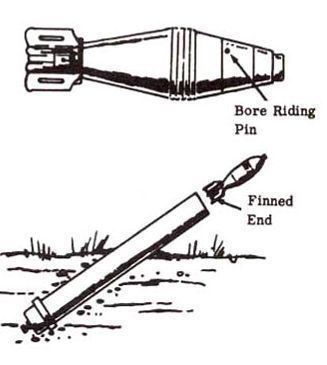 CAUTION: The round will fire as soon as the projectile is dropped into tube. Keep all parts of body behind the open end of the tube.