Section VII
No. 5
This twitch it designed for use with explosives placed on aircraft. It will close an electrical firing circuit when an altitude of approximately 5000 ft (1-1/2 KM) it reached.
MATERIAL REQUIRED:
Jar or tin can
Thin sheet of flexible plastic or waxed paper
Thin metal sheet (cut from tin can)
Adhesive Tape
Connecting Wires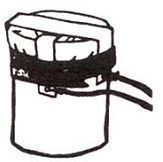 PROCEDURE:
1. Place sheet of plastic or waxed paper over the top of tie can or jar and tape tightly to tides of container.
NOTE: Plastic sheet should not be stretched tight. A small depression should be left in the top.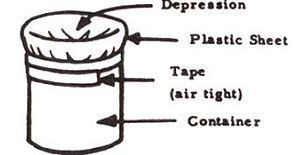 2. Cut two contact strips from thin metal and bend to the shapes shown.

3. Strip insulation from the ends of two connecting wires. Attach one wire to each contact strip.
NOTE: If a soldering iron it available solder wires in place.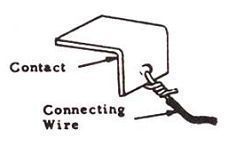 4. Place contact strips over container so that the larger contact is above the smaller with a very small clearance between the two.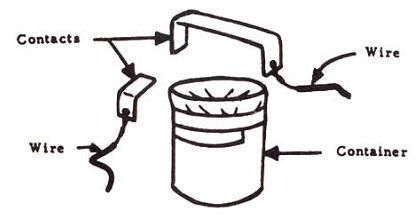 5. Securely tape contact strips to sides of container.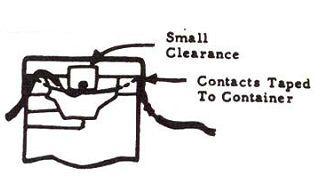 HOW TO USE:
1. Connect the altimeter switch in an explosive circuit the same as any switch.
2. Place the explosive package on airplane. As the plane rises the air inside the container will expand. This forces the plastic sheet against the contacts closing the firing circuit.
NOTE: The switch will not function in a pressurized cabin. It must be placed in some part of the plane which will not be pressurized.